As is our annual tradition, we have put together our Audioholics AV electronics holiday gift guide of relatively affordable audio gear and accessories that can really enhance your enjoyment of your favorite music and/or movies.  Whether you're shopping for a new AV receiver, media streaming device, speakers, or even a smart balance board, we've got you covered.  This year we've seen an increase in interest for Amazon Alexa smart device integration into AV gear, and of course Bluetooth headphones and streaming devices. That's all well and good but we would feel amiss without also recommending core products for Audioholics viewers so take special note of those recommendations before going out and buying your significant other a new subwoofer or AV receiver.
Note: Pay special attention to the limited time special pricing on some of the products on this list.
Streaming Media Player: Amazon Fire TV Stick with Alexa
Media streaming is a must have feature these days for a modern home theater. Many Blu-ray players and HDTV's do a poor job serving this function, so external devices are usually the way to go. The Amazon Fire TV Stick is popular for streaming services like Netflix, and Amazon Prime, as well as to take advantage of Android based gaming apps. Best of all, it is extremely affordable allowing you to buy multiple units to connect to ALL of your displays in your home and/or to take one when traveling so you don't have to rely on mediocre TV programming typically found in most hotels.
Amazon Fire TV Stick

WiFi Speaker: Oppo Sonica
When we reviewed the Oppo Sonica Wi-Fi speaker the old adage "Good things come in small packages" came to mind.  This $300 Hi-Fi wireless speaker has elegant styling and great sound and is easy to set up and use.  Sonica can be used standalone or in a multi-room setup and is compatible with AirPlay, Bluetooth, DLNA & Other Music Sources. We love this speaker and we're sure you will too!
Oppo Sonica WiFi Speaker (right pic)
Portable Bluetooth Speakers: RBH Sound Sidekick

MSRP $129 (free shipping, limited time price) | Review | Buy Now
RBH Sound introduced their first portable Bluetooth speaker armed with a Class D amplifier rated at 10 watts/ch and dual 45 mm drivers in stereo configuration with a patent pending oval 70mm bass radiator for extended bass. The Sidekick incorporated Bluetooth 4.0 for up to 33 ft of range, supports MP3 and WMA file formats via the microSD reader, and has a play time rated up to 6 hours.  This product performs more like a Superhero than a Sidekick and we think you're gonna be mighty happy owning one.
RBH Sound Sidekick Portable Speaker (left pic) and EP-SB wireless earphones (right pic)

Wireless Earphones: RBH HP-SB
MSRP: $149 (free shipping) | Review | Buy Now
RBH may be best known for high-end speakers but they have recently built a niche for themselves with high-performance earphones. The company that has been filling custom home theaters with sound since 1976 has just launched its most ambitious earphones yet. The EP-SB earphones combine an impressive array of the latest wireless technologies from aptX, CSR, Bluetooth 4.0, NFC and IPx4 – more acronyms than a brain surgeon's business card. How did they sound? In one word, awesome! With 5 hours of battery life, you can enjoy their great sound at the gym, on the airplane or even the beach.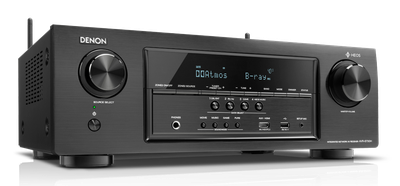 Denon AVR-S730H AV Receiver
7.1CH AV Receiver: Denon AVR-S730W
MSRP $349 (special limited pricing, free shipping) | Preview | Buy Now
This is a low-profile, 7.2 channel receiver pumps out 75 watts/ch x 7 and sports all the bells and whistles you'll want while also meeting just about every practical need.  There are six on-board HDMI inputs (five rear and one front) each capable of supporting 4K/UHD, HDR, and BT.2020 content with full HDCP 2.2 compatibility. Dolby Atmos and DTS:X are standard and support up to 5.1.2 immersive audio layout configurations. Streaming is a breeze. Wi-Fi, Bluetooth, and Ethernet are standard and you'll be able to pick from your choice of AirPlay, Android Push playback, Spotify Connect, and more. The S720 comes standard with Denon's HEOS multi-room audio streaming solution and Alexa integration is coming soon via a firmware upgrade. And if you have a hi-res audio collection have no fear. WAV, ALAC, FLAC and even DSD are all supported. Audyssey MultiEQ with Editor App will help you dial the Denon into your setup with ease. It's hard to find all this in the competition for under $500.
Subwoofer: Emotiva BasX S10

MSRP: $299 (free shipping) | Preview | Buy Now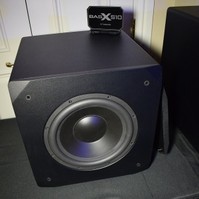 Emotiva, the company that's known for its high quality amplifiers at affordable prices released three newly enhanced subwoofers for 2017. The BasX line come in 8″, 10″, and 12″ models and with pricing at $199, $299, and $399, respectively.  Emotiva is making the convincing argument of getting a quality subwoofer at a great price even easier. At these prices, these subs leave little to desire and we think once you get one, you're gonna want two to explore the benefits of multi-subs. At these prices, Emotiva makes that easy for the audiophile on a budget.
Subwoofer: SVS SB12-NSD and PB12-NSD Black Friday Blowout – Limited Quantities

The SB12-NSD makes use of a proprietary 400w class D Sledge amplifier and 12" aluminum cone driver in a tiny sealed cabinet to produce satisfying and exceptionally well rounded bass reproduction and achieves our Medium Bassaholic room size rating. The PB12-NSD is a ported version with a larger box and greater bass extension to achieve our Large Bassholic room size rating. Considering both of these subs are being blown out by SVS for almost 50% off during the Black Friday weekend, these are venerable steals NO Bassaholic should refuse. Hurry as supplies are limited and will sell out quickly!
SVS NSD Subwoofers (left pic); Sony SSC5 Core Bookshelf Speakers (right pic)

Budget Bookshelf Speakers: Sony Core SSCS5 
Sale Price: $73/pr (shipped) | Buy Now
Don't let their price fool you. The Sony Core speakers are some of the best budget speakers on the market, directly competing against the venerable Andrew Jones Pioneer speakers. The SSCS5 are a 3-way, 3-speaker ported system featuring a 5-1/4″ Foamed-Mica Cellular Reinforced Woofer, 1″ Polyester Main Tweeter and 3/4″ Sony Super Tweeter to extend bandwidth to over 2X human hearing (50kHz) which Sony claims is necessary for high resolution audio.  Regardless of the validity of that claim, these speakers are a forum favorite and at 1/2 their retail price an absolute steal! They are 6 ohms rated with 100 watts power handling. Act quickly before this deal ends.
Active Bookshelf Speakers: JBL LSR305

MSRP: $299/pair | Buy Now
No budget speaker this year has garnered more love and respect from consumers and professional reviewers than the JBL LSR305 active monitors.  These little overachievers are packed with the very latest driver technology and legendary research of Harman, the same company responsible for the M2 monitors. From their rugged 5″ mid bass driver to their image controlled waveguide and robust 41 watt Class D amplifiers powering each driver, these speakers pack serious performance.  With a -3dB pt of 41Hz and ability to sustain outputs of 108dB, these speakers can stand on their own as a powered monitor or even for professional usage on an electric drum kit.  Considering they can be had for well under $300/pair, it's doubtful you can find something that offers this much performance for less money in audio.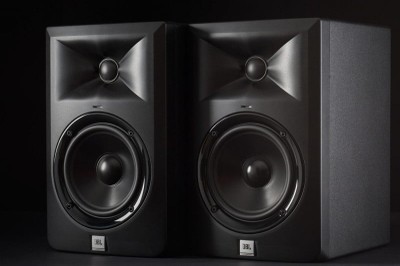 JBL LSR305 Active Bookshelf Speakers

5.1 Wireless Soundbar:  Polk Magnifi Max SR

MSRP: $600 (free shipping) | Preview | Buy Now
We recently reviewed Polk's foray into a niche small soundbar market with their MagniFi Mini Soundbar and Sub. With all the acclaims of their mini sound bar last year Polk decided to unleash a full sized model called the MagniFi Max. For $600 you get a premium soundbar plus a wireless subwoofer AND two wireless surrounds! What an incredible deal for a system that's inconspicuous, easy to set up and offers great performance the whole family can enjoy.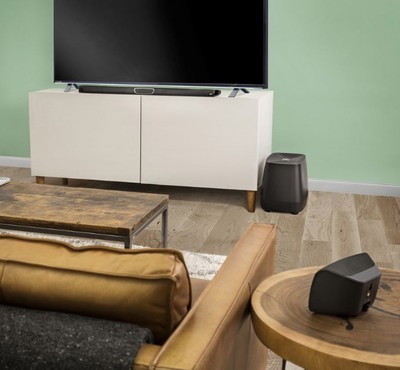 Polk Magnifi Max SR 5.1 Wireless Soundbar
HDMI Cables:  Monoprice Certified Premium

MSRP $3.99-$19.99 (free shipping) | Buy Now
If your values are performance, reliability, and price then you'll know why Monoprice's Premium HDMI cables rank as one of our favorite for digital connections for short to medium distances. These HDMI cables are certified to support 18Gbps for up to 25ft distances. There is no need to spend a fortune on HDMI cables, especially when these will do everything you need for a fraction of the price. You can literally rewrite your entire home theater system with Monoprice Certified Premium HDMI cables for UHD for less money than what some of the exotic cable companies charge for a single HDMI cable.
Smart Balance Board: Alienwheels Batwings with Bluetooth Speaker

MSRP: $298 | Buy Now
Tired of the long walks at the theme park or trade shows? Well, now you can do it in style on a hoverboard. Alienwheels is UL2272 certified to use safe battery technology that won't catch fire. It pairs with your phone so you can stream music to it's Bluetooth speaker while you're cruising at speeds of up to 7.5 MPH. With just a 2-3 hour charge, you can go 9-12 miles and have worlds of fun doing it. If you enter "audioholics20" at checkout, you will save an additional $20 just for being an audioholic! I took one for a spin in my Batman costume for Halloween and got a lot of attention from the neighborhood trick-or-treaters. I'm Batman!
Merry Christmas From Audioholics
Hope you found our list useful in shopping AV equipment and accessories for your family and/or significant other. We can't help but wonder how many audiophiles will be clamoring to get themselves a Batwing Smart Balance Board to satisfy their inner child.  If you have alternative suggestions, please feel free to post them on the forum.  Most importantly, we hope everyone has a great holiday season enjoying the spirit of Christmas surrounded (no pun intended) by family and friends.  In the end, that's all that really matters.
TheWarrior posts on November 24, 2017 09:27
RBH has updated their site to reflect a 12/15 arrival of the Sidekick. You can request to have your email added to be notified as soon as it is available. Site still reflects discounted price, but it is not clear that the reduced price will be there when the new inventory arrives – no option to prepay…
I'm just sad cause I was hoping to get it an play with it before I gift it
gene posts on November 23, 2017 15:01
As is our annual tradition, we have put together our 2017 Audioholics AV electronics Christmas gift guide of relatively affordable audio gear and accessories that can really enhance your enjoyment of your favorite music and/or movies. Whether you're shopping for a new AV receiver, media streaming device, speakers, or even a smart balance board, we've got you covered. Pay extra attention to the limited time special pricing on some of the products on this list. We hope you enjoy and have a very Merry Christmas!
Note: Pay special attention to the limited time special pricing on some of the products on this list.
22936
Read: 2017 Audioholics Christmas Gift Guide