System updated: 7/3/17
If you glanced at our $1,000 5.1 recommended system, it won't take long to find some big compromises. At that price point, aesthetics goes right out the window for the sake of delivering good performance. Even with that, you'll find sacrifices, like an entry level subwoofer that can't dig down to the low 20Hz range.  Bumping the budget up to $2,500 obviously changes the game considerably. This time around we'll give a couple options on the speakers/subwoofer front. With top name speaker manufacturers offering all in one 5.1 speaker systems for around $1000, you can get into some serious peripheral equipment with the ability to expand into immersive 3D sound for future purchases.
Speakers: RSL CG3, CG23, Speedwoofer 10S 5.1 Speaker System
MSRP:  $1080 for a 5.1 system (includes shipping) | Buy Now

We did a full review of the RSL CG3, CG23, Speedwoofer 10S 5.1 Speaker System and found that every single speaker in this system—especially the Spe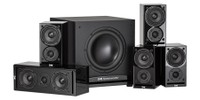 edwoofer 10S—is an all-star performer at this price-point. The dynamics, musicality, and raw performance are a superior value. It's at home with both music and movies and the compact size and optional wireless sub option makes it a perfect solution to the audiophile and cinemaphile who wants great performance and big sound in a small footprint.
With RSL's a la carte model, you can go for a two-channel, 5.1/7.1 system, or grow into a full-blown Atmos and DTS:X configuration. RSL's CG3 system will go toe-to-toe and might just outperform any compact home theater system out there at the $1,000 price-point…and beyond. To get significantly better performance you'll need to spend significantly more money to get bigger bang for the buck. With a no-risk in home trial and free shipping both ways chalk RSL's CG3 home theater system into the category of audio no-brainers.
For larger rooms there's always the ability to add another 10S Speedwoofer for $400 shipped (Their wireless 10S Speedwoofer is $450). And for those inclined to 3D sound via Atmos or DTS:X we would recommend adding two RSL C34E In-Ceiling speakers for $125ea. Try to avoid the bouncy house speakers if you can.  Discrete is best!
Alternative Speakers:
SVS Prime Satellite 5.1 Surround Sound System
MSRP: $1000 for a 5.1 system (includes shipping) | Buy Now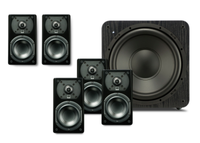 The Prime Series Satellites are exceptional sounding small and versatile speakers once again showing SVS's audio passion and expertise. The Prime Satellites exceed everything you might expect from a speaker of its diminutive size, providing a cinematic listening experience. Paired with SVS's  acclaimed SB-1000 subwoofer and its 300 Watts of power, the 5.1 system delivers a complete multi-channel experience for movies and music.
For only $200/pr you can upgrade this speaker package to a 7.1 system by adding 2 more SVS Prime Satellites (black ash) to be used as back or height channels.
For home theater enthusiasts looking to add height to their system, the SVS prime elevation speakers can be used as alternative height channel for Dolby Atmos and DTS:X applications. For $400/pr you get a compact, trapezoidal speaker that is primed for ceiling, on-wall, speaker stand or shelf mounting in several arrays. There is no sideways or upside down with the SVS Prime Elevation. It is acoustically engineered to offer the same detailed response and dynamics no matter what role it's playing.  For more information on the SVS Prime Elevation Speakers you can read our preview.

A/V Receiver: Denon AVR-X3300W 7.1CH Atmos/DTS:X

MSRP: $1000 | Buy Now


In our full revie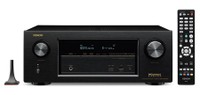 w of Denon's AVR-X3300W,  we found that it delivered solid performance in every measurable category while also packing in all of the surround processing, music streaming and HD video support one expects in a modern "does everything" AV receiver.  Their new App was also outstanding and allows the end user to edit and/or restrict Audyssey room correction via their smartphone. This could prove to be an invaluable tool to consumers and installers alike, one that makes their product line stand out from their competition. The AVR-X3300W is an affordable way of getting into immersive surround sound with all of the latest in music streaming, and a solid preamp output section for future expandability, the Denon AVR-X3300W is among the best options in AV receivers at this price point.
HD Source: Sony UBP-X800
4K Ultra HD Blu-ray player with Wi-Fi and Bluetooth
MSRP: $270

With Blu-ray players increasing in techn

ology, but decreasing in price there's a TON of sub $400 Blu-ray players on the market vying for your attention, but for $270 you can get a Ultra HD Blu-ray player with Dolby Atmos and DTS:X 3D sound capabilities and built in Wi-Fi and Bluetooth from Sony in their UBP-X800.   The UBP-X800 works with just about everything you choose to play through it – including Ultra HD video and High-Resolution Audio formats, along with your favorite streaming services. It can also convert virtually any video source to 4K Ultra video and play everything from standard Blu-ray discs to audio CD's.  And yes it can play Netflix in 4k UHD. With addition of Bluetooth and wireless technology built in we've found the Sony UBP-X800 to be an awesome all in one do everything but make you breakfast device.
Cables: Monoprice: ~$25.50
When you're on an extra-tight budget, there's one place to turn for cables: Monoprice. We're not aware of anyone offering cables for less. More importantly, while the products they offer aren't anything flashy, the quality is sufficient to get the job done. So what does $25.50 get you?
50′ 14AWG Spool: $13.26
1 – 3′ HDMI Cable: $2.57 + 1 – 10′ HDMI Cable: $5.15
10′ Subwoofer Cable: $4.50
Surge Protection: Panamax SP8-AV
MSRP: $70
The Panamax SP8-AV is a fairly basic device. It offers 1125 joules of surge protection for 8 outlets, as well as a modicum of EMI/RFI noise rejection. In the event of a catastrophic surge, the SP8-AV's circuitry will disconnect your equipment from the line, helping to ensure its safety. Considering the modest price tag, we consider it cheap insurance to keep your equipment reasonably safe. Take our word for it when we say it's never fun to see pricey components fry.
Summary
| | | | | |
| --- | --- | --- | --- | --- |
| |   Path 1:   | | Path 2:   | |
| Speakers & Sub | RSL CG3, CG23, Speedwoofer 10S | $1,080    | SVS Prime Satellite 5.1 Surround Sound System | $1,000   |
|  A/V Receiver | Denon AVR-X3300W   | $1000 | Denon AVR-X3300W   | $1000 |
| Blu-ray Player | Sony UBP-X800 | $270 | Sony UBP-X800 | $270 |
|  Cables | Monoprice | $25.50 | Monoprice | $25.50 |
|     Surge Protection   | Panamax SP8-AV | $70 | Panamax SP8-AV | $70 |
|  Total |   |  $2,445.50 |   | $2,365.50 |
For $2,500, the options open up considerably relative to the $1,000 recommended surround system. Here you can have your cake and eat it to (i.e. good looks and high performance), With each of these recommended systems you'll end up with exceptional performance for the dollar relative to anything you're likely to find at your local big box store. And, since we've come in at slightly under budget, you can use the savings towards adding some theater props in your room or put it towards an additional subwoofer or height channels in the near future.
The only question remaining is: which path would you take? Let us know on our forums!
BRIAN_PDX posts on July 14, 2017 22:54

I have had terrible luck with Denon, very and unnecessarily complicated, heat related shut off issues and would never buy another after going through this nonsense.
gene posts on July 03, 2017 12:39

This system has been updated as of 7/3/17.
JWH5173 posts on March 11, 2016 10:23

In order to put priorities inline I guess foregoing ceiling speakers are my best bet.
Steve81 posts on March 11, 2016 10:01
JWH5173, post: 1122696, member: 78598
Would you change any of these choices now
Not really, outside of updating the electronics to current models.
JWH5173, post: 1122696, member: 78598
what about ceiling speakers for those that want a cleaner appearance?
In ceiling speakers don't generally get a lot of love (aside from an Atmos/DTS-X install), but high quality in-walls do exist (though I'm not sure how many exist in this price bracket). There are also less obtrusive on-wall speakers like this.
JWH5173 posts on March 11, 2016 09:38

Would you change any of these choices now and what about ceiling speakers for those that want a cleaner appearance?